This article aims to provide a perspective on Starbucks Corporation in terms of organizational behavior theory applied in the business. The coffee company is discussed according to decision-making, organizational structure, organizational culture, communication, and human resources. The combination of strategic plans in all of these aspects is considered to be a determining factor in Starbucks's success. Some specific and actual implementations are discussed to shed light on how organizational behavior and related strategies contribute to the success of the coffee business.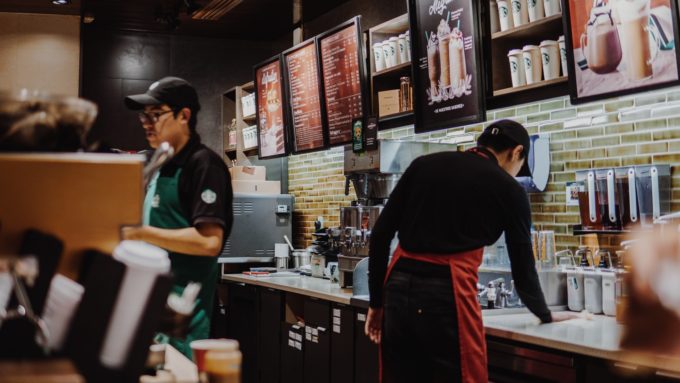 Starbucks Corporation (Starbucks Coffee Company) is a leader in the specialty coffee retail market. The business has a strong market position and steady growth in sales, and has a promising future in the long-term, attracting investments for its operations and the coffee industry. With good potential and innovative strategies, it is without doubt that Starbucks will continue its leadership position, and maintain the satisfaction of its mission and vision.
There are a few critical factors that support the coffee company's success in the industry. These include intensive market expansion, wide arrays of distribution channels and innovatively differentiated products and services, as well as innovative implementations inside Starbucks's organization. The company's strengths include its popular brand reputation, high visibility of coffeehouse locations and its steady sales growth rate. However, the corporation also has several weaknesses that hinder it from better business performance, such as clustering or self-cannibalization among Starbucks branches (stores), unpredictability of coffee prices, and relatively expensive retail selling prices.
Decision-Making
As with other organizations, Starbucks strives to abide by its mission statement. The company uses its corporate mission as a primary guiding principle and criterion for evaluation in decision-making processes, such as in expanding its coffeehouse franchise locations. Starbucks encourages its employees, who are called partners, to always abide by the corporate mission, and help in keeping business performance at the top by monitoring management decisions and submitting comments and questions if they encounter anything that is contrary to any point in the mission statement.
Starbucks Corporation maintains a peaceful business-clientele interface, but, behind all the smiles and greetings in any of its conference rooms at the Seattle headquarters, one could witness heated and opposing conversations. The coffee company would rather have such conversations take place in its conference rooms than in the hallways, and this is because the consensus-building decision-making organizational culture necessitates the consideration for and discussion of all issues from all angles before decisions are made. Such conversations are conducted with the involvement of Starbucks's key people to provide ideas from all business perspectives.
A significant feature of the coffee business is its employees' decision-making aspect. For example, employees are not provided with ready-made responses and are expected to create customer opportunities at Starbucks stores. This condition requires that baristas have a decent amount of autonomy that empowers them to make decisions. Through such autonomy for making decisions, Starbucks remains flexible to customer needs, at the operational level.
Organizational Structure
Starbucks's organizational structure is relatively flat, allowing for employee involvement through cross-functional work teams in the company's strategic planning processes. The primary governing body at the corporation is composed of the Office of the CEO and the Board of Directors, which receive substantial input from other senior executives, including the Senior Vice President for Global Coffee and Tea. In addition to this group, a steering committee composed of the heads of each functional area regularly meet to discuss corporate issues. Moreover, Starbucks has cut its network into a simpler structure to make the lower organizational levels connected with the higher levels of management.
Organizational Culture
Looking at the company's success, it is evident that Starbucks effectively implements its organizational culture. One of the company's cultural values is long-term commitment and a sense of ownership among the employees, applied through the Bean Stock stock option program. For instance, Starbucks uses proceeds to finance future business growth and to provide for the stock option program. The company's organizational norms also support culture development among employees, and emphasize world-class customer service in all stores. For example, Starbucks coffeehouses showcase comfy sofas, large servings of gourmet brew, and a non-smoking policy to accommodate all potential customers.
One obvious product of the company's organizational culture is great customer service, such as through Baristas' performance and interactions with customers. This business competitive strength is possible by empowering employees to do "whatever" it takes within Starbucks's guidelines to make the customer satisfied and happy.
All industries have guidelines, though, but it is how such guidelines are implemented and how they are flexible enough to make room for little changes at the operational level that influence the success of the coffee business. In providing great service, a notable characteristic of Starbucks is that it values its employees. To provide the best customer service, the coffee company recognizes that employees are one of its most valuable assets.
Communication
To support communications throughout the organization, Starbucks Corporation uses up-to-date technologies that provide benefits and competitive advantages for the business. For example, the company has an information system that connects all departments to increase productivity and efficiency, such as in coffee production and logistics. Starbucks's communication systems also enhance inter-office cooperation and communications through simplification – no more memos passed around or notices posted, improving day-to-day business operations.
Starbucks's relatively flat organizational structure also facilitates communications. This structure is based on Schultz's objective of viewing everyone in the organization a partner and not an employee. For example, the company invites ideas and suggestions from its baristas, considering that they are the ones in direct contact with customers. Managers at the headquarters are kept updated with information from field people. To further support communication between managers and other employees, Starbucks conducts open forums in which company news and regional issues can be discussed. In these meetings, employees are encouraged to ask questions, make suggestions, and relay customer feedback or complaints.
Human Resources
Starbucks is known for the feel-good atmosphere in every store. In a similar way, employees enjoy a small mom-and-pop company ambience that contributes to their well-being and job satisfaction. However, managing thousands of employees while keeping such an ambience is not an easy task while the coffee company continues to grow and develop.
As a service-excellence-focused learning organization, Starbucks has recruitment processes that have continually become more challenging for workers. For instance, face-to-face meetings with new recruits demand knowledge of the company's history and its coffee products. This process helps Starbucks decide which applicants are most interested and could greatly contribute to business success by embodying the company's mission with the right knowledge of the business.
Starbucks prides itself on excellent service that values customer input. For example, customers are involved in making decisions about the characteristics of the coffee they buy at the company's stores. In applying this concept to its business operations, Starbucks innovates its human resource management to ensure that employees contribute to the company's success.
Baristas and other employees who directly affect the quality of products and customer experience in the stores influence the company's performance. Committed, enthusiastic employees are necessary to deliver good service and provide an appealing ambience for customers throughout their coffee buying and consumption experience. Thus, Starbucks's success is a result of the effective strategies for motivating and sustaining employees' interest in the company's offerings, including its products, working environment, and culture.
To keep employees happy in the service business, Schultz spearheaded healthcare coverage for all employees who worked at least twenty hours a week. Board members were initially critical of the plan, but Schultz convinced them that this was a smart investment for the future. Lower employee turnover could reduce Starbucks's training costs. The coffee company spends less in providing health benefits than in training newly hired workers.
In exchange for such benefits, baristas are expected to be courteous and hospitable, to effectively make the type of drink that customers request, and to answer questions that customers ask about Starbucks and its products. This exchange requires greater effort on the part of baristas. To prepare them for such a challenge, all newly hired employees undergo comprehensive training before they could start working in the coffee shops.
To further increase customer satisfaction and improve service quality, Starbucks pays its partners (baristas and other employees) higher wages compared to many other food service companies. Also, the company's employees are given insurance and free coffee. These benefits are on top of Starbucks's Bean Stock stock option program for its qualifying employees.
An Assessment of Starbucks's Application of Organizational Behavior Concepts
Starbucks Corporation is one of the most successful companies in the world. Starting as a small Seattle-based company, the business has grown to thousands of stores worldwide. This success is attributed to effective application of organizational behavior concepts, among others. Starbucks Corporation successfully implements strategies that involve concepts and theories in decision-making, organizational structure, organizational culture, communication and human resources. This condition contributes to better business performance through employees' higher productivity, reduced turnover, effective communications, integrative and comprehensive decision-making processes, and effective human resource development throughout Starbucks's organization.
Starbucks properly coordinates the application of organizational behavior concepts and principles, leading to high quality in service and management for employees and customers alike, while abiding by the company's mission and vision. Along with the application of organizational behavior concepts, the coffee company's business technologies contribute to business success. In examining Starbucks Corporation, it is worth noting that the most important aspects of the business are the customers, the employees, and effective implementations of strategies that consider all angles of the multinational business.
Sources
Garthwaite, C., Busse, M., Brown, J., & Merkley, G. (2017). Starbucks: A story of growth. Kellogg School of Management Cases.
Holmlund, M., Kowalkowski, C., & Biggemann, S. (2016). Organizational behavior in innovation, marketing, and purchasing in business service contexts – An agenda for academic inquiry. Journal of Business Research, 69(7), 2457-2462.
Koehn, N. F. (2001). Howard Schultz and Starbucks Coffee Company. Harvard Business School Case 801-361, February 2001. (Revised September 2005.)
Richey, L. A., & Ponte, S. (2020). Brand Aid and coffee value chain development interventions: Is Starbucks working aid out of business? World Development, 105193.
Voigt, K. I., Buliga, O., & Michl, K. (2017). Globalizing Coffee Culture: The Case of Starbucks. In Business Model Pioneers (pp. 41-53). Springer, Cham.